Mainly local news and information:

_______________________________________________________________________________________________________________________________________________________________________________________________________
If you have any items of interest that you think would be suitable to be included on our website please let us know via our website Join & Contact Us page, phone 01702 207297 or drop in to 25B Belchamps Way or 2 Englefield Close. Only digital documents and photos please and if we believe they are appropriate we will include them.
________________________________________________________________________________________________________
AGM -
Our next Hawkwell Residents Association AGM will be held at 6pm in the Hawkwell Village Hall Annex on Thursday 16 August 2018.
Recalls - If you are worried that your home appliances / gadgets have been recalled you can check by entering the equipment details at the bottom of this page: Electrical Product Recalls .
Hawkwell Residents Association 2017 Hawkwell Voice Newsletter
Rochford District Council Bin Collection Calendar 2016/17
Local Comments and Info from Vice Chair Alan James



Hockley Library
Living not far away, I often pop into the Library for something or just to have a look round. I recently borrowed a couple of books and was surprised that I had not used this service for more that 4 years requiring me to renew my membership. This got me thinking that many people like me may be using the library but going unrecorded by the library system. We certainly do not want to loose this service, so I would encourage our residents to use their membership now and then to get recorded on the library system. As they say "use it or loose it" and we don't want that to happen.

Opening Times
Monday Closed
Tuesday 9.00 - 5.30
Wednesday Closed
Thursday 9.00 - 5.30
Friday 9.00 - 5.30
Saturday 9.00 - 5.30
Sunday Closed
Southend Road, Hockley, SS5 4PZ Fax:
01702 207254
Email:
Hockley.Library@essex.gov.uk
Renewals and Library Enquiries:
03456 037628
Allotments For Hockley
If you are interested in having an allotment, they are on the way in Hockley. They should be located at the back of the Folly Grove development Folly Lane in Hockley, subject to financial support and planning approval. Search for the "Hockley Allotment Society" Facebook page for the latest info.
Hockley Residents Association Last Coach Trip


A coach trip to Broughton Castle & Sulgrave Manor on the 20 October will be the last trip to be organised by Brian O'Shea. After many years of organising the Hockley Residents Association (HRA) Coach Trips, Brian is standing down from this task. I am sure that there are hundreds of our residents that would like to join me to thank Brian for his tireless efforts in organising around six trips a year around Britain, including
short stay holidays in nice hotels. If there is anyone that would like to take over from Brian to continue this worthwhile job for all our residents, please get in touch with the HRA via the website at:
hockleyresidents.co.uk/contacts.htm
.




Single Occupier Discount



Did you know that if you are the only person aged 18 or over living in your property that you may be entitled to a 25% reduction in your Council Tax? Maybe you are a young person just starting a life away from parents or maybe an older person that has sadly lost a partner. No matter what your situation, if you are living alone you should be able to claim. In certain circumstances you may also be entitled to claim when more that one person lives in your property. For more information visit the Rochford District website for details a:
www.rochford.gov.uk/discounts-0
.




Infrastructure

Have you experienced power cuts recently? We are often getting them in Hawkwell and have just had three in two days. This is the second day I have had to shave in the dark and my power shower not working. I am fed-up resetting clocks, timers, alarms, the sky box and getting the computer to work again. If I had an electric car, that they say we will all be driving in the future, I would also be hanging around waiting for it to charge up. I believe this will only get worse without the necessary infrastructure required for the more that 200 additional homes built and being built in our area. What's next? reduced water and gas pressure, overflowing sewers and drains and of course traffic jams getting even worse than they already are now.



Hockley Toilets Petition
If like me, you would like to see the Hockley Public Toilets remain open for our residents and visitors, please sign the e-petition below. This petition closes on the 10 November 2017. You may also sign a paper petition that can be found in a number of shops in Hockley and Hawkwell.
https://rochford.cmis.uk.com/rochford/EPetitions/tabid/90/ID/26/Against-the-closure-of-Hockley-Public-Toilets.aspx

Hawkwell Buses
Arriva seem to be allowing the number 8 bus route that runs through Hawkwell to gradually deteriorate with the new time table published on the 23 July 2017. This is the service that serves Clements Hall Leisure Centre and now 176 homes at Clements Gate and 36 homes at Highwell Gardens plus other smaller new developments. Weekdays there is only one service in the morning and one in the evening that goes through to Rayleigh and only one service at lunch time that comes back from Rayleigh, meaning a change to the number 7 bus at Hockley for all other journey times. The number 8 also stops in early evening leaving the only way to get to and from an evening secession at Clements Hall is by private car or a taxi. There are rumours that some number 8 services could be rerouted through Hall Road to pick up the new Cherry Orchard Way Saxon Business Park and the new 600 home development in Rochford. This could only be bad news for Hawkwell, leaving Rectory Road including Clements Gate, St Mary's Church and Clements Hall with a very limited service or even worse, none at all.
Westerings

School

Expansion


It was reported on the local news that Essex County Council have received the highest number of complaints in our region of 210. That seems to be a bit low to me and I a sure we could boost it up a bit by complaining about the Westerings school expansion and the situation we have with our local roads caused by the school. I have already complained and it's quite strait forward to do. My objections were:

''In the last two weeks of June ECC ran a consultation on their proposal to enlargement of Westerings School, doubling it from 210 to 420 pupils. My objections is that I have lived near the school for 27 years and have noticed a continuous increase in a serious issue at drop-off and pick-up times. Parking over driveways and pavements in many local roads, speeding to and from the school and traffic jams at the two access points to the B1013. Without providing sufficient solutions to these issues, I have objected online to any increase in the size of the school. Unfortunately this seems to have been ignored by ECC by the current silence from you in defending this situation or coming up with solutions.''

Complaint can be made on their website using the link below:





Bullwood Hall Development
Two years ago Harrow Estates prepared a planning application for residential development of 55 homes on the former Bullwood Hall Prison site. As part of the process of preparing an application, Harrow Estates held a public exhibition on the proposals, which provided local people with the opportunity to view the initial master plan and speak to members of the development team. At short notice, the Sanctuary Group have held a similar public exhibition, as they have purchased Bullwood Hall Estate from the original developers. There was not much detail supplied but the main issue is that they plan to build an addition 20 properties on this site. As you are probably aware, the access has been improved from the B1013 but there are no plans to improve the rest of the exiting narrow road to the new estate. I am sure the local residents would be pleased to get this area sorted out, as at the moment it's a mess and attracts squatters.




Rochford's Last Bank To Close



We lost our last bank, Barclays in Hockley, two years ago and now, as predicted last year when Natwest closed, the Rochford Barclays is set to close in October. Just to remind you that most of our banking can now be done at any Post Office.
* You can pay cash and cheques in for 96% of UK banks with a 'paying in' slip free of charge.
* You can withdraw cash using a debit card up to a daily limit pre agreed with your bank - most are set at £300 a day but this may be increased.
* You can pay most bills in a post office, including utilities, telephone bills for free except £3.02 charge for water bills. Best to check for any charges before paying.
* The Post Office ATMs can be used for all UK banks, to draw pensions and benefits. Some ATMs are external and available 24/7.
The Post Offices also supply the following services:
Mail, Drop & Go, Parcel Force Express Services, Foreign Currency, Travel Insurance, National Express Tickets, Savings Accounts, Lotto Tickets and Lotto Prize Payments. In larger Post Offices they also have Passport Check and Send and you can pay your Vehicle Road Tax. My thanks to Hawkwell Residents Association committee member Nick Astdon, who runs the Hawkwell Parade Post Office, for supplying this Post Office information.


Westerings
School
Expansion

27 July 2017


In the last two weeks in June Essex County Council ran a consultation on their proposal to enlargement of Westerings School, doubling it from 210 to 420 pupils. Through social media and a leaflet drop we got as many objections as we could in the time available, even though they make this task as difficult as possible. The main objections from residents that live near the school are the current serious issue at drop-off and pick-up times. Parking over driveways and pavements in many local roads, but particularly in Sunny Road, speeding to and from the school and traffic jams at the two access points to the B1013. Without providing sufficient solutions to these issues we are unable to support any increase in the size of the school and have objected.
Just to say I am actually against surveys and consultations as they are generally ignored. There were two RDC survey that ended in January one had 210 responses 0.3% of residents and the other only 16 responses 0.02% of residents, which is less than the half the 39 RDC councillors. How can they say this represents the views of residents and the cost of running and evaluating these surveys can no way be justified. Having said that we felt on this occasion it was necessary to object on the road issues.
The Hockley Residents Association meetings are held on the second Tuesday of each month. Our next meeting will be on Tuesday 8 August 2017 at 7.30 pm at Greensward Academy. The meetings are held in Room GG27 in the Creative Arts Block next to the main car park.
Hockley Area Action Plan
06 June 2017

The Hockley Area Action Plan (HAAP) for the centre of Hockley Village was started 10 years ago and as far as I can see nothing ever came from it, to the relief of most of us who like Hockley more or less the way it is. Even one of the main items, to turn Eldon Way into a housing estate, has survived unchanged. Many of the existing buildings in Eldon Way have since been renovated and apart from some set backs, at the moment they appear to be doing well.

One of the good items in the plan was to improve parking and access at Hockley Station. Again nothing has changed except for double yellow lines recently replacing single ones in Plumberow Avenue. According to social media one of the issues at the moment is cars ignoring the double yellow lines on both sides of the station causing a dangerous congestion at each end of the working day. This could be sorted out by traffic wardens but apparently due to a lack of staff, no one gets a ticket and the yellow lines are ignored. The problem with this area is that a poor design was allowed to be built in the first place but this was in the days before we had so many cars. Proper set down and pick-up areas on both sides of the station should now be provided. Unfortunately on the south side they allowed flats to be built in the way and I am not sure what they could do now to eliminate this issue with the limited space that's left. They didn't even make the flats developer provide a pavement to the shop. They should have also lined up Station Approach with Station Road with a set of traffic lights but it's all too late now. I believe one of the issues is that the land in front of both side of the station belongs to the Network Rail and it would appear no one can make them do anything.
We Need More Local Police
05 June 2017
Many people criticise the police for not doing their jobs properly but as we all know local police numbers have been reduced to such an extent that they are now practically non existent. All the local police meetings have been reduced to the point that they have virtually finished. That connection with local police has now been lost and the police are now completely out of touch with our residents and our streets. In recent months we have seen an dramatic increase in burglaries in our area. I believe that if we don't invest more money in our police force, crime and lawlessness will eventually become rampant, even in our relatively low crime area of Hockley.
Vic Leach
06 April 2017

We are sorry to hear that the chair of Hawkwell Parish Council, Vic Leach, passed away in March. Vic did a lot for the Hawkwell community serving on the council for over thirty years. We are sure he will be sadly missed by most of our residents.
Pharmacy Delivery Services
06 April 2017

You may have had some information through your door advising you of a pharmacy service that arranges, dispenses and delivers your NHS repeat prescriptions. A nice idea you may think but this could lead to a reduction in our existing excellent pharmacy services that in many cases already provide all these services. Please ask your local pharmacy if they provide the services you require before considering to use other companies.
Hawkwell Post Office Refurbishment
06 April 2017
After a refit at the end of March, the Hawkwell Post Office in Hawkwell Parade held an official reopening in April attended by our area MP Mark Francois. Please remember that most of your banking can now be done at any Post Office. You can pay cash and cheques, withdraw cash using a debit card, pay bills including utilities and telephone. At most Post Offices you can use the ATMs to draw pensions and benefits, Mail, Drop & Go, Parcel Force Express Services, Foreign Currency, Travel Insurance, National Express Tickets, Savings Accounts, Lotto Tickets and Lotto Prize Payments. In larger Post Offices they also have Passport Check and Send and you can pay your Vehicle Road Tax.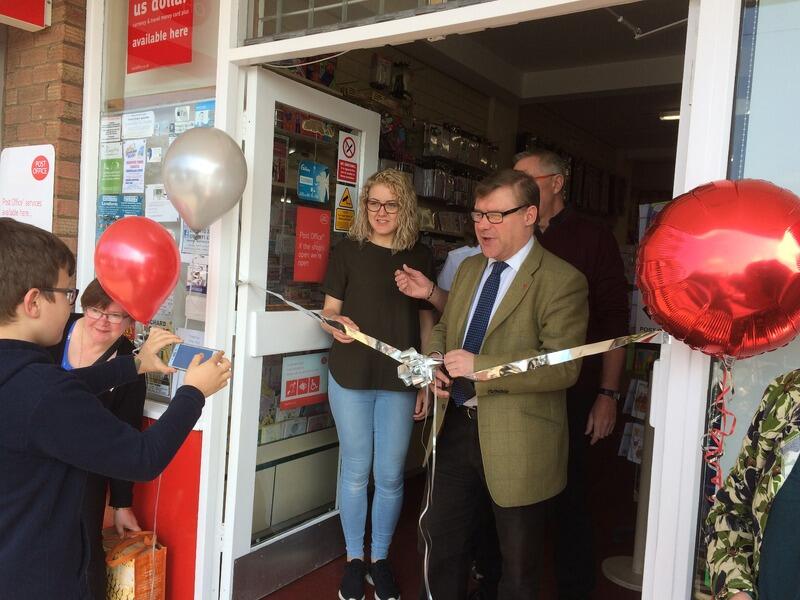 Rayleigh Recycling Centre
06 April 2017
Rayleigh Recycling Centre in Castle Road is controlled by Essex County Council and they have now made some vehicle and site restrictions changes. We believe that some of these restrictions are the reason we are getting a massive increase in fly tipping. You can draw your own conclusions by reading the following information taken from their website:-
Vans, pick-ups and other commercial-type vehicles – including those privately owned - are not allowed to use this site. Customers attempting to park prohibited vehicles outside the site and carry waste in will be turned away. Rayleigh recycling centre only accepts the following amounts of DIY waste:
* In any 28-day period you may not exceed three wheelbarrow loads(one car boot) of soil, hardcore or gypsum-based products including plasterboard and dry wall lining.
* In any six-month period you may not exceed three large ceramic items (e.g. toilet or wash basin), one uPVC or wooden window frame, one uPVC or wooden door, three wooden internal doors or any elements of a built-in kitchen.
Your nearest recycling centre that accepts vans and limited DIY waste is Pitsea. What you cannot bring to recycling centres: Asbestos, Chemicals and other toxic substances, Clinical waste, Dead animals, Fireworks, ammunition and explosives, Fuel, Hazardous waste, Japanese knotweed, Landlord's waste, Pesticides, Poisons and Trade or commercial waste.

The State Of Our Roads
06 April 2017
When will they get a grip on the state of our roads? Some pot holes have been repaired but as soon as one is done another appears. When I was a child living in London they seemed to always be resurfacing the roads, now it seems to happen once in a blue moon, and what about the state of our pavements. About a month ago they came round and painted orange spray paint on all the dodgy areas of paving and that is a lot believe me. A few days later someone else painted out some of these markings, in our road and other roads, with black spray paint. I rang Essex County Council who assured me that they never use black spray paint and they would investigate. Of course I never heard any more about this and most of the paint marks have faded without any repair taking place, and what about the street lighting. Lights not working and lampposts knocked over and missing, don't get me started!
Church Road Through Route
23 March 2017

In our February residents association meeting we were asked by residents for help with a traffic issue in Church Road, Hockley. They are getting heavy vehicles speeding through the area and getting stuck under the bridge in Church Road and in the very narrow one way Fountain Lane. It is believed that satnavs may be responsible for a recent increases in these incidents plus the building works taking place off Folly Lane. The local residents have now got together and produced a petition that has been signed by more than 100 people living in that area. About a year ago we requested a weight limit for Fountain Lane but nothing was done about it, we now believe that whole area needs the access for heavy vehicles to be dealt with. The residents in that area have a number of possible solutions, so I am sure a solution could be found that would be suitable for all concerned.

On 21 February 2017 I wrote to all 3 local councils (parish, district and county) on this issue, so far I have only had replies from parish and county.

Essex County Council replied: We can advise that Folly Lane and Church Road are both Priority Two (PR2) routes and therefore form part of the priority network. As such they must remain accessible for all traffic therefore imposing a weight restriction on these roads would not be considered. Any changes to a road that are not considered to be a maintenance issue such as this request, may be considered by the Local Highways Panel and would be best addressed by your parish councillors in the first instance. More information about LHPs - including copies of agendas and minutes - can be found on our website at Local Highway Panels.

Hockley Parish Coucil replied: The residents attended a recent council meeting and explained the problem to the council. I understand that their petition was taken to Essex County Council Highways who are the only ones who can order weight limit and vehicle size restrictions. However, there are some things that the Parish Council might be able to and I am investigating the possibility of using their power to erect road signs warning of danger or hazards (Road Traffic Regulation Act 1984, s.72). The Parish cannot put up mandatory signs but a blue 'Unsuitable for HGV' blue sign with a yellow 'ignore satnav and re-route' sign underneath should deter all but the most wilful lorry drivers. The council will be considering this at a forthcoming meeting.

So far I have not received a reply from Rochford District Council. I will keep you informed in future articles.

Local Public Toilets Update
20 February 2017
I was unable to attend the Rochford District Council meeting on the 13 December but I was informed that no decision was made regarding closure of any of the public toilets in Rochford District. It also was emphasised that the administration consider it to be a last resort.

I was in the Hockley Library and I thought I would pop next door to use the facilities and to see what state they are in. I was surprised to find that they are in a reasonable condition but could do with a fresh coat of paint. I was also surprised that someone else came in during my visit and another was entering on my exit. In a Rochford District Council meeting that I attended in November, a councillor stated that they are seldom used. I would have liked to know where he got that information from, but members of the public are not allowed to ask questions in their meetings.

I don't believe this is the last we will hear about these closures but we will try to do all we can to retain these facilities in Hockley and keep you our residents informed.


Eldon Way Business Estate
22 December 2016
I am pleased to see that Eldon Way has done well this year. RDC want to replace it with housing but I believe we need it for local jobs and as a useful facility for our residents.
Howdens joinery opened at 2&3 Eldon Way in refurbished units: https://www.howdens.com
Standout men's online clothing shop opened at 4 Eldon Way in a refurbished unit: https://www.stand-out.net
Toymonster shop and online has opened at 12 Eldon Way: https://toymonster.co.uk
Digiflex online shop at 15 Eldon Way is building a large extension: http://www.digiflex.co.uk
4edge printers 7a Eldon Way is moving to a larger refurbished unit at 22 Eldon Way: http://www.4edge.co.uk
Monkey Bizzness is successful after the problems they had last year: http://www.monkeybizznessadventureplay.co.uk
CJ Bowling should be reopening at the end of January 2017 after the fire they had: http://www.cjsbowling.co.uk
Local Public Toilets
21 December 2016
We were in Hockley Library on Saturday and I thought I would pop next door to use the facilities and to see what state they are in. I was surprised to find that they are in a reasonable condition but could do with a fresh coat of paint. I was also surprised that someone else came in during my visit and another was entering on my exit. According to the RDC meeting I attended, a councillor stated that they are seldom used. I would like to know where they get that from, but as I said before, you are not allowed to ask questions without sending them in before the meeting.
15 December 2016
I was unable to attend the RDC meeting on Tuesday 13 December but I have now received this message from someone that did. I will try to keep residents informed about future decisions on this topic:

"No decision was made regarding closure of any toilets last night, and it was emphasised that the administration consider it to be a last resort."
New Business Park
09 December 2016
Plans have now been published for the new £150m airport business park to be built off Cherry Orchard Way in Rochford, meaning further loss of green belt and good farm land. Will this development really be fully built? as the original Rochford Business Park on the west side of Cherry Orchard Way, that was built over 20 years ago, has still only developed a third of the site. What really concerns me is that the only change to the infrastructure for this development is a new roundabout to be built on Cherry Orchard Way that will just slow up the existing traffic.

We now have 600 homes being built in Hall Road, 37 off Main Road in Highwell Gardens, 70 off Folly Lane, 60 at Bullwood Hall and 176 that have recently been finished at Clements Gate and nothing has been done about the daily traffic jams that occur at the Hockley Spa roundabout. I can remember traffic jams on the B1013 through Hockley when I first moved there 26 years ago, before any of these developments were even thought of. Since then nothing has been done about this issue that gets worse ever year. I believe the problem is that Rochford District Council decide on the buildings and Essex County Council decide on the roads. What I don't understand is that many of the district councillors live in and around Hockley and must be affected by these jams, but they still allow these developments to go ahead without doing something about it.

Neither the 600 homes in Hall Road nor the new business park are on an existing bus route and I have not heard of any new bus route being proposed, unless they are keeping quiet about it. At the moment you would need to walk at least a mile to get a bus from these locations, which means even more cars on the roads. What is really needed is joined up thinking but I don't see that happening any time soon.

Local Public Toilets
07 December 2016
On the 30 November I attended a Rochford District Council (RDC) meeting in Rayleigh that was mainly about the future of the public conveniences in Rochford District. There are 6 in total including the one in Hockley Woods that is not included at the moment. It was the usual stuffy council meeting where the public are not allowed to ask questions. There were about 15 council members and about 10 members of the public and parish/town councillors. An agenda/information document was handed out containing a lot of facts and figures. To cut a long story short, the main proposal seems to be to replace the current toilet blocks with the cubical type blocks they use in Southend and Leigh that have life expectancy of 20 years. As I see it the reason for this is that the existing facilities need to be completely refurbished costing probably as much if not more than replacing them.

The other main point is they would for some reason like to offload the cleaning and maintenance responsibility to the parish/ town councils. I would assume this is to cut the RDC budget cost, but in the end we all end up paying whatever way you look at it. My opinion is that as long as these facilities remain in a usable state it doesn't matter what building they are in. I have used the cubicle type toilets in the past and as long as they are regularly cleaned and maintained they seem to work quite well. RDC are intending to consult the public before going ahead with any changes, but going by past experience of consultations/surveys the response can be as little as 0.4%.
Hockley Toilets To Close

27 November 2016
From Hockley Living Magazine

The Rochford District Council Cabinet is meeting on the 30th November at the Civic Suite,Rayleigh to consider, amongst other things, a strategy for our public toilets. With the exception of Hockley Woods, the proposal is to dispose of these by closure, sale, or a long-term lease to the relevant Town/Parish Council. With regards to Hockley the Parish Council have declined to take over the toilets. If you object to the loss of these public amenities you need to make your voice heard now. The recommendations made on the 30th will be recommended to Full Council on the 13th December. Not a good Christmas present for those who need these facilities in order to shop locally or use (in Hockley) the adjacent library for any length of time. Personally I feel that this policy will disadvantage the elderly, the young and the infirm. Indeed the report acknowledges that there is likely to be a 'a disproportionate impact on the more vulnerable groups should the toilets close'.
However it is up to the public to make their voice heard by contacting their local councillor or attending the meetings.
Comment from independent councillor Adrian Eves:

The public toilets adjacent to the library in Hockley are under threat of closure. If you think they should be kept open, please email me at:

cllradrian.eves@rochford.gov.uk

Even if it's one line, help us to help Hockley be a comfortable place to visit!
My email to Adrian Eves:

Hi Adrian

I saw your comments on Hockey Living and was surprised that this topic has come up again, as I thought it had been dropped. I would have thought the last thing we need in Hockley is to discourage shoppers with the loss of this facility. What I am interested in is what proposals the councillors have, if any, to replace them with.

In the past previous councillors have made a lot of effort to find the finances to build these facilities, as they believed they were necessary for our village to be a successful shopping area. Current councillors can't even find the money just to service them.

These toilets should not be closed without councillors pursuing every avenue to find sufficient funds to keep them open or provide alternative facilities for our residents.

I would like to suggest that you request the names of any councillors be recorded that vote to close these toilets without acceptable alternatives being provided. I believe you are able to make this request at the time of voting. When we have these names we can make every effort to bring them to the attention of our residents.

Thanks, Alan
BA Training Flights
9 November 2016
From this months Hockley Residents Association meeting we decided to step up the pressure to get something done about the BA Training flights that every few week have been circling over the Hockley area. These flights have been flying as low as only 1340 feet (408m) above the rooftops for around 20 laps over a period of hours during the summer weekends. The original worry was that a plane was trying to use up fuel before crash landing on residents homes. Apart from the annoying disturbance, there is the worry that air pollution could be dangerous with this older type plane. I wrote to the Airport who are responsible for allowing these flights and received the following standard type reply. I am interested to know what your view are on this subject:

Dear Alan, Thank you for getting in touch regarding the BA training flights that have occurred over recent months.

British Airways have carried out a number of training flights at Southend this year. The total number of training flights represents a very small percentage of our overall movement numbers and has occurred on 6 occasions to date.

Whilst Hockley/Hawkwell does not sit directly under the immediate departure or final approach paths, it is regularly overflown by overhead air traffic to and from other London Airports, passenger arrivals that are being vectored from the upper controlled airspace towards Southend and by lighter aircraft that may be training or overflying the area close to the airport for pleasure.

Due to the size of the Embraer aircraft that BA have been using, some residents in the Hockley/Hawkwell area have noticed the training flights and contacted the airport for further information. All enquiries and/or complaints have been answered and information provided about the type of aircraft and flight. All that have addressed the airport directly have received a response.

Whilst we regret that the training flights may have caused concern and/or disturbance, they are fully compliant with our operating controls. As you would expect, pilots must be competent in all types of aircraft operations/arrival procedures and are required to carry out specific training exercises to ensure that high safety standards are maintained.

Training circuits are usually vectored north of the airfield as the south is more densely populated. Circuit size is kept to a minimum in order to reduce the flight time and the number of local residents overflown. The crews are practising take-off and approach procedures and need to overfly the runway performing a 'touch & go' procedure.

Whilst we are very conscious of our commitment to be good neighbours we need to balance this with the airlines requirement to maintain high safety standards. As this type of flight complies with our operating controls future training may be carried out if requested by the airline although we would expect it to be fairly infrequent.

A summary of the airports operating controls is provided on our website. You can view the summary by clinking on the following link; http://www.southendairport.com/images/corporatecommunity/communityrelations/pdfdownloads/operations-...
For more general information, it may be helpful to view our latest Annual Report which can be found on our website:

http://www.southendairport.com/images/annualreports/LSA-AR-2016-Web.pdf . This report explains the controls under which the airport operates and reports on our performance against these controls. In response to previous enquiries regarding the training flights, we have agreed to advertise any future training events on social media and on our website at least 5 days in advance, providing we have advance notice from the airline concerned. I hope the information provided is helpful.

Regards, Jo Marchetti - Noise Manage
17 November 2016

Some good news from the airport on this subject, a new flight plan spreading the flight path across a larger area and flying at a higher altitude. I am still hoping they will agree to stopping flights during summer weekends:

Hi Alan,

Further to my conversations with Mrs Johnston last week, I did as promised and spoke with both Jon Horne and our SATCO (Senior Air Traffic Controller) to see if we could encourage the BA training crews to vary the circuits and to try and put some of them south of the airfield. We also suggested trying to circuit at a higher altitude over Hockley. Having looked at the training flight tracks for Saturday I hope you will agree that all of the suggestions have been achieved and the training circuits were much more varied and higher over Hockley. Please see the map below.

Previous training circuits have been mainly VFR (visual flight rules) – meaning that the pilots practiced navigating the circuits using visual aids. The training on Saturday was slightly different in that the pilots were vectored by ATC – meaning that they followed more concise instructions as to where they should fly. Both types of training are necessary to maintain high safety standards. Changes to the circuits can only be achieved with the full cooperation of the flight crews concerned so we cannot guarantee any future training will carried out with the same variations. At the time of writing, there are no more training events planned.

I hope the information provided is helpful.

Kind regards, Jo

Jo Marchetti - Southend Airport Noise Manager




400 Homes at Fossetts Farm
They are building 600 homes at Hall Road Rochford that will no doubt put an enormous additional strain on the already overloaded district roads and services. Now they are proposing to build an additional 400 homes at Fossetts Farm between Waitrose and the proposed new football stadium, on top of other developments already planned for the east of this area in Wakering. I believe they should stop all additional house building to the east until they sort out the road bottle neck at Priory Park. I am sure the additional traffic generated would cut through Rochford when travelling north and we will end up with even more gridlock situations. The proposed Fossetts Farm building area was green belt, as is the area proposed for a Southend football training ground north of the proposed stadium in Rochford District. If this area behind Waitrose is now available, why not use it for the training ground? But of course that would not make loads of money for developers.
Another Hockley Plan

On the 16 August 2016 I attended along with about 40 other residents, a Hockley Parish Workshop hosted by Hockley Parish Council (HPC) but presented by Rochford District Council (RDC). About ten years ago a Hockley Village Plan was produced and about 5 years ago a Hockley Area Action Plan. A lot of good stuff was generated particularly in the village plan but as far as I can see, nothing has ever changed from the results of these documents. Now RDC want to produce another plan to cover Hockley from 2025. It would appear from the meeting that the main objective is to find areas of land for developers to build addition homes on, although RDC could not actually say how many would be required. We have gone through this exercise before and apart from Eldon Way Trading Estate, which will probably never change, only green belt land was found, resulting in the 70 homes now being built on the Folly Lane Estate. One of the main items highlighted now and in the past is the lack of infrastructure for existing homes particularly the B1013 road and the Spa roundabout. This is the responsibility of Essex County Council (ECC) and it seems doubtful to me that we will see any junction improvements now or after 2025. Apart from road improvement the majority of residents I talk to are happy with the way our village is now. I will be keeping a close watch on this subject and report any future developments I find.
Solar Street Lighting
The topic of Essex County Council (ECC) switching off the street lighting between midnight and 5am on Sundays and 1am and 5am the rest of the week, is not going away. There are constant calls in areas like Basildon and Canvey, where crime figures are higher and in other areas for various safety issues, to keep them on all night. Most councils like Southend are changing to cheap to run LED lights, whereas ECC spent a lot of money installing timer control panels that will probably never pay for them selves. I now believe this issue will eventually disappear, as solar street lighting will eliminate it. I first noticed a number of them this year in the USA and if you google "Solar Street Lighting" you will find there are plenty of manufacturers making them and a good website example is greenshine-solar.com . The advantages are great as they there are no wiring costs, no digging up the road to lay cables and no electricity costs to run them, just the possible replacement of the long life lamps and rechargeable batteries. The modern solar cells are powerful enough to keep the low power LED lamps on all night, even in the winter. Changing to solar would not only save ECC a few hours of electric during the night but the rest of the night-time hour as well. I have no idea what ECC are doing about this issue at the moment but they should now at least be running solar street lighting trials.
Another Bank Closure

As you know our last bank in Hockley, the Spa Road branch of Barclays, closed on the 9 October 2015 even after one of our Hockley Residents Association members Shirley James made considerable efforts to stop it. Now NatWest in Rochford, used by many Hawkwell residents, have announced that they will be closing on the 14 July 2016. I said when we lost Barclays in Hockley that it's just a matter of time before the Barclays in Rochford will close but I am surprised that NatWest beat them to it. The Rochford Barclays only opens 4 days a week at the moment but unless they get a lot more business from ex-NatWest customers, it's doubtful they will increase their opening days. I still believe it's just a matter of time that Rochford Barclays goes the same way Hockley's did. At least most of our banking can now be done at any Post Office.
* You can pay cash and cheques in for 96% of UK banks with a 'paying in' slip free of charge.
* You can withdraw cash using a debit card up to a daily limit pre agreed with your bank - most are set at £300 a day but this may be increased.
* You can pay most bills in a post office, including utilities, telephone bills for free except £3.02 charge for water bills. Best to check for any charges before paying.
* The Post Office ATMs can be used for all UK banks, to draw pensions and benefits. Some ATMs are external and available 24/7.
The Post Offices also supply the following service – Mail, Drop & Go, Parcel Force Express Services, Foreign Currency, Travel Insurance, National Express Tickets, Savings Accounts, Lotto Tickets and Lotto Prize Payments. In larger Post Offices they also have Passport Check and Send and you can pay your Vehicle Road Tax. My thanks to Hawkwell Residents Association committee member Nick Astdon who runs the Hawkwell Parade Post Office for supplying this Post Office information.
Stop The Surveys
At the end of 2015 Rochford District Council (RDC) run a Budget Survey that closed on the 8 January 2016, there was an article in their newspaper Rochford District Matters. There are around 85,000 residents living in the RDC area, but from a Freedom Of Information (FOI) request, we have found out that only 344 people responded, which is just 0.4%. We don't how much RDC spent on this survey but it was probably in the thousands. It would be difficult to come up with a precise calculation, as some of this work could have been done by staff that are not being paid directly for this task but are spending time on it. Why are councils still wasting our council tax and resources on these surveys and consultations when councils are short of funds? We believe residents are not doing these surveys and consultations because of frustration with RDC who have ignored past results that do not agree with RDC plans.
Eldon Way

Rochford District Council (RDC) has granted planning permission to replace units 27, 28 and 29 with 20 aesthetically unattractive flats above 5 shops in Eldon Way with the possible additional replacement of units 23, 24 25 and 26 with 30 flats above 8 shops. I believe this is not what was proposed in the RDC 'Hockley Area Action Plan' or in keeping with the residents 'Hockley Parish Plan'. As far as I can tell these unit are in full use at the moment, which would mean relocating these businesses to who knows where or loosing these businesses and associated jobs completely. These flats and shops will be in the wrong location surrounded by existing industrial units and a lack of sufficient parking facilities. In fact the 3 existing small car parks are for industrial unit permit holders only. Hockley has bucked the trend of mass shop closures but I doubt there is really the demand for these addition units located more than 200 metres from the existing shopping centre. I know some specialist shops can survive isolated from shopping centres and housing estates but I don't think there is that much of a demand. Eldon Way is in no way a failing business area, in fact Units 2 and 3 have been completely refurbished and are now occupied by Howden's Joinery a nationwide business and refurbished unit 4 has also been taken. Unit 15 Digiflex, an online gadget company, is in the process of building an extension doubling their floor space. As far as I can see only non refurbished units 6 and 22 appear to be available at the moment. I am concerned these proposed flats will end up being run down private dwellings above empty shops surrounded by industrial units and although this area is mainly out of sight, it is not what I gather residents want for our village. There are some other planned developments that RDC has granted for Hockley but although we have objected, it's now too late. It may also be too late for the proposed Eldon Way development but not too late to vote in the 5 May elections for a council we deserve.
MP's Expenses
I found it very interesting to see the vast difference between the highest and lowest expenses claimed by our local MPs. Total Costs – Mark Francois £121,422.57 and James Duddridge £161,597.44 (£14,441.83 is accommodation) and why is David Amess spending £9,361.29 travel when Jackie Doyle-Price is claiming £0? It would appear to me that some MPs are not living near the area they are representing. Maybe, to keep the costs down, we should take this into consideration the next time we vote.
Essex County Council's ''Collective Energy Switch''

My annual energy contract was about to run out, although some last 2 years. This means unless you change, they automatically put you on a much higher standard tariff rate. You have 7 weeks to change over in during which they cannot charge for ending the contract early. Changing your contract early can be as much as £40, £20 each for gas and electric. I had an offer to sign up for Essex County Council's ''Collective Energy Switch'' and after a couple of weeks I got an email with my estimated savings of £595 for the year. Not trusting anyone these days, I compared the tariff with the one I was about to change from and was surprised that unit cost and standing charge for both gas and electric were considerably higher. I have not done the calculations but I would assume they were making comparisons with my suppliers standard tariff rate and not the current tariff rate that I am on at the moment. After using a couple of online comparison sites I finally changed with uSwitch. Although the electric rates are very slightly higher than my current ones, the gas prices are considerably better giving me a good saving overall with my heating costs. I have no way of knowing if my case is unique but be warned, do not change your supplier without a close look at the unit cost and standing charge tariffs for both services.
Pay More Get Less
I read that Rochford District council are putting the council tax up by 2% and charging more to park my car. They also plan to close all the public toilets and to charge £40 to empty the green bins. They already charge to park at Hockley Woods now they want to make that free and start charging to park at Cherry Orchard Park. I now don't park at Hockley Woods and when they charge I will not be parking at Cherry Orchard Park. I believe we should be encouraging visitors to our towns and villages so they can spend money in our shops. Putting up parking charges and closing public toilet is not just an additional cost inconvenient for locals, it also another discouragement for visitors to our area. As for charging to empty green bins, I for one will not be paying. We don't have much green waste and it will end up in the general waste bin like most people will do. There are elections in May, so I will be voting for someone that can come up with a few sensible policies and if they don't I will not be voting.
Hockley Shops
I believe a Costa in Hockley can only be a good thing for the village. I know people say that shop and food outlet chains turn shopping centres into clones but people also like to know they are going to get a certain standard that they have experienced in other locations. I personally don't use it, but I believe Domino's was the turning point in Hockley and we will probably attract a restaurant chain next (Ask?) and maybe a shop chain to follow (Pound Land?) with all the additional visitors and customers they attract.

Housing

In the Rochford District Council's Core Strategy it was agreed that 50 additional homes would be built in Hockley and 175 in Hawkwell. As I understand it the Core Strategy was developed to protect the district from house builder demands to release sites for uncontrolled development that could get approval from government appeals. Apart from minor house building approvals, approvals have been given for 175 homes off Rectory Road and 37 off Main Road in Hawkwell (accessed on a blind bend) and 75 off Folly Lane in Hockley. As far as I am aware, apart from an extra slip lane at the Rectory Road / Hall Road mini roundabout, there has been no improvement to local infrastructure that was talked about a number of times in the Core Strategy. It would appear to me that like the Parish Plans, this was a wasted exercise that cost local tax payers a great deal of money and is now being ignored. The junction of Folly Land and Main Road is a source of constant traffic hold up when driving in the direction of Rayleigh from vehicles turning right into Folly Lane. This will now get considerably worse when an additional 75 homes are added off Folly Lane with at least an additional 300 vehicle movements per day. I believe the issue is that house building comes under Rochford District Council and roads under Essex County Council (ECC). What is needed is joined-up planning under one organisation, in other words a unitary council as they have for Southend and Thurrock. Southend is not a perfect example but at least they have joined-up services.

Interesting Websites
Recycling At Home Britain From Above - Southend Highway Code Essex Libraries Armed Forces Veterans

Bulk Buy Home Heating Oil Club Arriva Bus South East Police UK Walk4life BBC Weather BBC News

Essex Weather Southend Echo Southend Yellow Advertiser Essex Enquirer ITV News Sky News

Rochford History Springboard's Handypersons Service Spotify Free Music Streetlife Calendar

Massive Youth Club Havens Hospices Talking Newspapers for the Blind Free Youth Club TV Guide
Strokes Swim School Lessons Nextdoor Talking Newspapers for the Blind Citizens Advice Bureau

Who Can You Trust? Buy With Confidence - Find a TS Approved Trader Hockley Residents Association
Royal National Institute of Blind People DisabledGo Hawkwell Parish Council Rochford Hundred Rugby Club

Rayleigh, Rochford & District Association for Voluntary Service - RRAVS Age UK Hockley Parish Council

Hawkwell Village Hall Hockley Living DisableGo Rochford ASB & Other Reporting Form
Crimestoppers - A Charity Essex County Council - Report Highway Issues (Including Street Lighting)
Want to be a Retained Firefighter? Sunday Saver Bus Fare Changes Hockley Woods Walks
Rochford Neighbourhood Watch – RNW Newsletters Recycled Teenagers Club Belchamps Scout Centre
Clements Hall Shelter
The teen shelter was built for Hawkwell Parish Council in Clements Hall Recreation Grounds a few years ago. The shelter was completely removed in July 2015 and all that remains now is a patch of weeds. Spot the difference:

Side 1 When Built

Side 1 Before July 2015 Demolition

Side 2 When Built

Side 2 Before July 2015 Demolition

Side 3 When Built

Side 3 Before July 2015 Demolition

Side 4 When Built

Side 4 Before July 2015 Demolition

My name is Karen Harper and I work for Castle Point Association of Voluntary Services. I am trying to promote the Befriending Scheme that we are running in the Castle Point, Rayleigh & Rochford area. The aim of the service is to provide companionship and emotional support to the residents of these areas from the ages from 18+. It helps:

· to increase their confidence and self esteem,

· have someone to talk to on a regular basis,

· have someone to enjoy activities with,

· help to become involved with the local community

· give confidence and motivate to join new clubs.

I am looking for ways to promote this service and to find volunteers to spend a couple of hours a week befriending our Befriendees and also to let the possible Befriendees find out how to access our scheme. All we look for from our volunteers is a couple of hours a week having a chat with a befriendee over a coffee. I have attached a leaflet to give you a bit more detail about what we do.

Karen Harper - Befriending Scheme PR
Castle Point Association of Voluntary Services Ltd
The Tyrells Centre, 39 Seamore Avenue, ,Thundersley
Essex, SS7 4EX

Tel: 01268 638416 Fax: 01268 638415 Mobile: 07517856121

Email: karen.harper@castlepointavs.org.uk Web: www.castlepointavs.org.uk/

__________________________________

Hullbridge Memories & History Southend-on-Sea Video

Flooding Under Hockley Bridges


At the end of August we had a month's rain fall in an hour. A car was submerged nearly to the windows under the Church Road railway bridge. A second car got stuck under the Spa Road railway bridge in water that reached the car roof and was about two metres deep. The occupants including an adult and three children were lucky to escape with their lives thanks to three quick acting local passersby. The long term forecast is we will experience more and more extreme weather in the future. We believe these two bridges require an improved storm drain system to cope with future events that cut off the north of our village. The Spa Road railway underpass already has an issue with wide vehicles passing each other, which ought to be addressed before future increases in house building hits our area. We believe this could be overcome by installing a separate pedestrian underpass as they have done in Wickford, allowing for the road to be widened at this location without replacing the bridge.

Church Road Hockley Railway Bridge 24 August 2013

Spa Road Hockley Railway Bridge 24 August 2013

The Hockley & Hawkwell 55+ Social Centre
Preparing Lunch

In the Car Park behind Hockley Library is Hockley & Hawkwell's best kept secret - "The Hockley & Hawkwell 55+ Social Centre," where a warm welcome awaits you between 10 a.m. and 4 p.m. on weekdays. Established in 1989 by Hockley & Hawkwell Old People's Welfare Committee, it provides around sixty lunches, morning coffee and afternoon tea, daily for the older members of our community in modem comfortable surroundings. Lunch costs £4.50 and transport is available for those who are unable to get to the Centre under their own steam, in its wheelchair and zimmer frame friendly minibus, for a small donation However, you don't have to have lunch in order to attend the afternoon activities - Monday, Whist - Tuesday, Bingo - Wednesday, various pastimes, such as Cards Thursday, Entertainment or a Speaker and Friday, Scrabble but you don't have to be over 55 to pop in at 10 am / noon, to sample freshly baked scones or cakes with tea or coffee for under £1. When I first visited the Centre, a recently widowed lady told me how kind and supportive everyone was and how, having somewhere to go regularly, with such a warm atmosphere had helped her come to terms with the loss of her husband. If you feel this facility might suit you, why not pop in for coffee one morning to check us out or ring 01702 206208 for more details. The main reason for the Centre's success is a dedicated band of volunteers, who keep everything running smoothly. However, sometimes they are over-stretched so if you feel that you could give up a couple of hours to help, please ring Carol Warren on 01702 202582.

Our minibus to pick you up

Echo Article 29 November 2012 – No, Boss, when we said the team needed a new winger...
Our feathery mascot - Josef Leverington with Memphis the hawk and team-mates

A Red-tailed hawk has become the latest signing at a community football club. The three-month-old bird of prey, called Memphis, made
his debut for Hawkwell Athletics as their new mascot at the Hockley Community Centre, in Westminster Drive, on Saturday. About 300 eager residents flocked to the hall to catch a glimpse of the new addition, the first official mascot for the club. Youngsters from Hawkwell
Athletics' youth teams held the new bird. Craig Leverington, club chairman, said: "Memphis is absolutely gorgeous and I'm sure everyone who came fell completely in love with him. "It's such an exciting time for the club to have this opportunity and he's well suited to our club name and colours. I'm sure he will find a happy home here." Memphis has been supplied by the Imperial Bird of Prey Academy in Barleylands Road, Billericay. For more information, visit: www.hawkwellfc.com .

Echo Article 29 November 2012 – Sign up now and save
Shoppers can sign up for money-saving vouchers and discounts with the launch of a new website. The award-winning Shop At My Local campaign is a partnership between Rochford District Council, Chambers of Trade for Rochford, Hockley and Rayleigh parish and town councils and the Federation of Small Businesses. Already 442 businesses are part of the campaign which offers special deals. For more information, go to: www.shopatmylocal.com .

Belchamps Scout Activity Centre
Children's Parties
Try something different for your next birthday; we have a wide range of activities for you to choose from, suitable from 6 years old. Choose from bouncy castle, assault course, cork guns, pedal karts, climbing, crate stacking, archery, traversing wall. Also rifle shooting from age 8 plus and for the older age range 10 years plus, 5 different high ropes elements to choose from. All activities last one hour. Add approximately 30 minutes to your party time if you are booking party food. Our activity sessions are for groups of 8 or 12 depending on the activity. If you have more than this number please book two activities per hour. We take bookings Monday to Sunday 9am till 5pm. Please make sure that you have at least one adult to every 3 children for under 8s parties and one adult for every 6 children if it's for over 8s. For £3.50 a head we provide a party box which contains A large sausage roll, a packet of crisps, box of raisins and a small cake. We cater for vegetarians also. The price per head includes a birthday cake and unlimited squash. Or you can bring your own food and hire a grass area, hall or marquee. Party bags can be provided at £2.50 per head. Activities available include: Climbing, archery, rifle shooting, pedal karts, cork guns, traversing wall, assault course, bouncy castle, pole joust, the leap of faith, crate stacking, high ropes traversing element, high all aboard and Jacobs ladder. Belchamps Scout Centre, Holyoak Lane, Hawkwell, SS5 4JD. Tel: 01702 562690 Email: info@belchamps.co.uk Website: www.belchamps.co.uk .

Old Cars to Cut Up


If any one has an old car that they would like to dispose of without cost, Hawkwell Fire Station needs it to practice cutting techniques on. Please note that it is essential you have the logbook of any vehicle being donated. To donate your vehicles please contact Dan Clary at Hawkwell Fire Station in Main Road.

Save £35 per year from sewerage


If you home was built in the past 20 years or so, it has probably got a soakaway in the garden for the roof rain water. Did you know that you can now save around £35 per year from you sewerage charge by informing Anglian Water? They will back date the reduction on your bill but only for the tax year to April 2009. To save around £35 for this tax year and all future tax years just freephone Anglian Water on 0800 91 222 91 with your request.

Wyvern Community Transport


Are you unable to access conventional transport due to either having restricted mobility, temporarily unable to access public transport, living in an area not served by public transport or where your transport needs are not met by existing timetables. If you are a permanent resident of the our area then Wyvern Community Transport for Rochford District can help you. The scheme utilises drivers and the vehicles provided to meet the special transport needs of residents of Rochford District. To book the service phone 01702 544551 between 9.15am & 2.30pm (Mon - Thur) 9.15am & 12.00 (Fri). Email: manager@wyvernct.co.uk A yearly membership fee of £5 is payable and £2.50 per journey up to 4 miles. For journeys over 4 miles, 50p per mile is charged. See: http://www.rravs.org.uk/transport.html .

Self Defence
Britka Karate is a professional karate club based in the Southend on Sea area. They run classes in Wado Ryu Karate for children from ages 5 up to adults. They have been running karate classes successfully since 1991 and have classes for beginners and advanced students in the Leigh, Hadleigh, Hawkwell and Shoebury areas. Chief Instructor of Britka karate is Sensei Russell Garrard 4th Dan. For their website click on: Britka Karate

Astronomy from Rawal Pindi Nursery


Weather permitting, free observing session at the Astronomy Resource Centre, Main Road, Hawkwell from 9pm. Phone Royston Dean on 01702 206244.


Ashlea Simpson a Hawkwell lady living in the USA – Please see 'Good News' and 2011 update below


Extracts from three emails we have received from Ashlea Simpson a Hawkwell lady living in Idaho USA. Please Contact Us if you have any information that may help her:

(1) I am wondering whether you know how I might find out if my great-grandmother is buried at Hawkwell Church. She was 84, I think, and her name was Sara Ann Simpson (or Sarah Anne possibly). I used to stay with her at her home in Rochford during the 40's, and I remember going to see her on her deathbed (I lived in Brighton then). I believe I was 7 years old when she died, so that would have been in 1946+/-. I have a photograph of her standing by the front gate with the name of her home on the gate "ASH LEA". If I were in England I could perhaps research this myself but I moved to the US in 1958. I visited Rochford in 1978 and was floored by the changes - houses after houses, so many streetlights, etc. but her home was still standing then, as were the ones on either side. Thank you for any information you may have to help me in finding her final resting place. Ashlea

(2) I believe my great-grandmother is not buried in the little church at Rochford (built, I believe, by King Canute of the Danes), which was across from the dirt road where she used to live (with the woods at the other end). Her home had the name ASH LEA on the front gate. Like a bungalow with a large front porch and just past her home, right next door, was a brick two-storey house. They were both still standing in the late 1970's. And I'm not certain whether her first name was Sara or Sarah and her middle name Ann or Anne. I'm trying to remember her husband's name and it may have been Albert. Where that dirt road met the main road (by a pub across from a farm and the "Canute" church, we would turn right onto the main road by the newsagent/tobacconist's shop and the vicarage on the other side of the main road, and walk quite a way and then turn right again down a road to another churchyard - possibly Hawkwell Church? This is going back 60+ years so I don't recall the names of the roads, unfortunately. I will try to dig out some more information but not sure of my chances. I think that buried somewhere here I may still have an Easter postcard mailed from my grandmother to my great-grandmother which may give a clue as to her address. Ashlea

(3) I have now found out my great-grandmother's husband's name was Christopher (not Albert). Perhaps he is buried in the same churchyard as she is. I unearthed a letter from my mother dated June 21, 1982, with lots of family info but nothing re the correct spelling of my great-grandmother's first two names. Ashlea

Good News

One of our local residents has now located Ashlea's great-grandmother's grave in Saint Mary's Churchyard in Hawkwell after reading our news item. From a list of graves we found that three Simpson are buried there. Sarah Ann Simpson died age 86 in 1947 is in grave 1149, John Thomas Simpson died age 53 in 2000 is in grave 2023 and Christopher Thomas Simpson died age 70 in 1925 is in grave 699 (U/K). We sent Ashlea some photos of the churchyard and Sarah's and John's graves. Unfortunately Sarah's husband Christopher's grave is unknown (U/K), which means it is in the graveyard but as it is unmarked (no grave stone) they cannot find it. As John has the middle name Thomas I believe he may be a relative and as he died age only 53 in year 2000 there are probably more relatives living in the Rochford area. If you have any information for Ashlea please let us know via Contact Us. I have included extracts from Ashlea's emails of thanks below:

This is a wonderful surprise. Only yesterday I was wondering if any records had been found about my great-grandmother and I also came across our previous emails. It's sad that I had no knowledge of John Thomas Simpson as he died so recently and it would have been wonderful if I'd had the opportunity to meet him; he was born only 8 years after I was. I have no idea whose son he was, which is a shame. Thank you so very, very much for including my inquiry in your news item, and please do convey to the resident who took the time to locate these graves my very deepest gratitude. That was an extremely generous thing for them to do for a total stranger. I have looked at all the wonderful photos you have been so very kind to send me. I want to thank you or whoever took all these photos for me it was so very, very kind. What a beautiful church - makes me so homesick. I do remember going to visit the grave with my grandmother some short time after my great-grandmother was buried there. I will treasure all of these and, of course, make prints of them. Please be sure to thank everyone involved, including yourself, for finding out all this information and going the extra mile for me. This has been like a journey back to a gentler time. Ashlea

2011 Update

Extracts from four emails we have just received from Ashlea Simpson. Please Contact Us if you have any more information for her:

1) I am filled with guilt to bother you again, truly, but am wondering whether any of those churchyard records mentioned the home address of my great-grandparents Sarah Ann Simpson and Christopher Thomas Simpson. For the life of me I can't remember the name of their road. It was a dirt road with woods at one end and a main road at the other where, on the left, there was a pub and across from that there was an empty farm. Between my great-grandparents' road and the pub there was an identical dirt road also ending at the woods at the far end. I had friends there by the last name of French. I do recall during the war a fair was held over by the farm in the
summertime and I recall hearing its loud music playing 'You Are My Sunshine'. Also across the main road was a newsagents / sweet shop / tobacconists and a bit further down to the right a stone wall which I believe bordered a vicarage. I would love to find their road / location on a map but am unable to. If you can't find any address records, never mind - I just thought it was worth a shot. Ashlea

2) I had thought maybe there was a possibility of written records somewhere in the church or town as to the addresses of the deceased, but maybe not. For some reason Albert Road is in my "mind" but it could be meaningless. I think that old, old church in Rochford near the farm and across from the pub might have been St. Andrew's? Not sure. Don't know the name of the pub or the farm - but I do remember climbing over the stile at the farm and walking around in the fields. Have been staring at Rochford maps till I'm cross-eyed but I think possibly those two dirt roads may now be long gone. They were there in the late 70s along with all the homes still, but I think it had been paved. Ashlea

3) Thank you so much for this information. Yes, I think it must have been Albert Road and, looking at the maps I have found online, I could see that the roads in that area were "unmade" and the community mostly rebuilt, I guess. That must have started shortly after my very brief visit in the mid-seventies when my great-grandmother's bungalow was still standing, as well as the homes on either side. At that time, I didn't bother looking for the name of the road because I knew where I was going. Trying to recall images in ones mind from 65 years ago, though, isn't a piece of cake exactly. So it probably was The Victory pub although I don't remember it as having so many windows in front in the 1940's. But I could be wrong easily and definitely the old church across the road from the pub I used to see was built by King Canute of the Danes - I do remember that as well as going inside the church many times in the 1940's as a young child wandering around the churchyard and the farm nearby - so it has to be St. Andrew's. Don't know if the empty farm with the stiles is still there, highly doubt it. It is very kind of St Mary's Church to send what information they could find including the Burial Registration of my great-grandmother. In view of the limited info kept back in those days, I'm sure no address would have been entered for Sarah's husband, Christopher Thomas Simpson, when he was buried in 1925, either. So I will try to find out how, online, I can get in touch with the Census Bureau or whatever it's called in England. Way back in time I believe most such records were at Somerset House but I'm sure that set-up is long since changed. Ashlea

4) That's terrific news I'm truly glad the Victory won't be converted into just another run-of-the-mill and meaningless blob of concrete with its only atmosphere being a screening room. Long live the Victory! And I'm really happy for the landlords. It's shameful how they were going to be cast aside - just as the huge TV screen will one day be for the latest fad. Ashlea

Extracts from an email to Ashlea from Pat a Hawkwell resident:

I have found on a site the following and wondered if sarah's name was ingram before marriage, and if they had a son called Joseph,who married a Lilian, who had a son called Stanley who married a Winifred if so, they have a family tree on ancestry going back to 1806 to Thomas and Charlotte. I know through my own family tree searching it is hard to match the people as there seems to be lots with the same name, if these are your relatives, i'll look at it again for you and send you more info. I also found Christopher Thomas Simpson of Mayblossom Ashingdon near Rochford died 15/12/1925 probate London 31 March to Sarah Ann widow effects £403 4s 10d could be the house was called Mayblossom? I hope you didn't mind me emailing you good luck in your search. Pat

Extract from Ashlea's reply:

Of course I don't mind you emailing me. Wow what a surprise ! Thank you so very, very much, Pat. Actually, the name on the gate of my great-grandparents' place was Ash Lea but, yes, Mayblossom certainly rings a loud bell. It may have been the name of an attached property or, as you say, another place where they lived, such as Ashingdon. Perhaps Sarah Ann moved to Ash Lea in Rochford after her husband, Christopher Thomas died in 1925. Yes, Sarah's maiden name was Ingram or Ingraham. Yes, they had a son Joseph - I loved him so very much, my grandmother's younger brother. Joe is the only one of her siblings I met though she had several. Her name was Phoebe Frances Simpson and she married George Wood. Joe and Aunt Lil (she was deaf) lived in Dagenham when I knew them (he worked at Ford) and they had a son, young Joe, who died in the war, a sailor I believe. Also I met Stanley, their second son, a really nice young man, so friendly. Also they had two daughters, Doreen and Olive, and another son, Gerald. I knew and loved them all so very much!!! How odd, even to this day, once in a while I dream I am back in their house - weird, huh? Especially if you bear in mind I left England back in 1958. There was a well in the back garden of Ash Lea as well as a miniature house I used to go inside at the bottom of the garden. Ashlea


Bees in Autumn


By David Blackwood our bee keeping committee member.

I have been asked to write something for the Hawkwell Residents Association website about bees. It is thought that I ought to know something about them as I have been keeping honeybees for many years and I am the honorary secretary of the Southend-on-Sea and District division of the Essex Beekeepers Association. Of course this is such a large subject that no one knows everything there is to know about bees.

By the time you read this Newsletter the beekeeping season will be practically over. All species of bees will have made their preparations for the coming winter. Yes I say species, because there are some approximately 230 different species and sub-species of bees in Britain. Ranging in size from very small 3-4mm solitary bees to the largest of queen bumblebees of nearly 2 inches (50cm).

The majority of bees that you will see in your garden are the bumblebees. These are round, furry insects that vary in size and colouration. A young mated queen comes out of hibernation from a hole in the soil in late January or early February, and this depends on the actual species of bumblebee and the weather. She looks around for a place to make her nest and as she is not capable of collecting nesting material herself like a bird does, so she looks elsewhere. Often she will choose a compost heap, a discarded bird's nest or an old mouse's nest, somewhere nice and cosy. She goes foraging to collect nectar and pollen for her own consumption and to take back to the nest. In the nest she constructs a heap of mixed pollen and nectar and lays eggs on it. This she covers with wax from her wax glands and with wax she also constructs a honey pot in which she stores nectar for a rainy day when she cannot get out to forage. After between 4-6 days the eggs hatch into larvae and they eat the food that mother has been placed underneath them. After another period during which they grow by shedding their 'skin' several times they spin a substantial cocoon of silk in an upright position. After about two weeks the adult workers begin to cut their way out of their cocoons using their mandibles. According to one source of information it takes about 5 weeks from an egg being laid to the emergence of an adult bumblebee from the pupal cocoon. Now the solitary existence of the queen is at an end and she has help with foraging and the looking after other larvae.

The colony develops with the queen foraging less as there are daughters to do this work Some species can build up to about 100 workers all working for the good of the colony. Later in the year eggs are laid that develop into males and future virgin queens. The males when they emerge from their cocoons spend about four days in the nest maturing and when they leave the nest it is considered that they never return to it. They patrol an area leaving a scent trail on vegetation and when a young virgin strays into their territory she is pounced upon and mating takes place on the ground or other flat surface. When young virgins emerge from their cocoons they mature and then go out to forage returning back to the nest at nightfall.

These young virgins soon meet up with their male counterparts and mate. Once mated these queens continue to forage for pollen and nectar, which they break down internally into chemicals for storage in their fat bodies in preparation for hibernation during the winter. The young mated queen then digs a small hole in the soil and lining it with a solution from her Dufoss gland and salvia settles down to 'sleep' through the winter. Her metabolism slows right down and because of the chemicals in her body that act as an antifreeze she is able to withstand very cold temperatures. When the weather warms up in the spring she comes out of hibernation and the life cycle starts all over again.

There are 23 different bumblebees in Britain; of these 6 are cuckoo species whose queens take over a different bee species nest similar to the cuckoo bird. But it is the cuckoo queen that kills the rightful queen. The cuckoo queen does not lay eggs that develop into workers, only males and future queens. The workers of the rightful queen look after the usurper's eggs and larvae.

There are six main species of bees that are found in your garden, and they are Bombus lapidarius (Large red tailed bumble bee, black with a brick red tail); B. terrestris (Buff tailed BB with yellow bands and buff tail); B. lucorum (Common white tailed BB yellow bands and white tail); B. hortorum (Common garden BB with three yellow bands and white tail); B. pratorum (Meadow BB yellow bands and red tail); and B. pascourum (Common Carder Bee dark or light brown BB). As I wrote in the beginning all of these species should have completed their life cycle by the time you read this article.

_________________________________________________________________________________________________________________

Disclaimer:
The information on these pages is placed here in good faith. We cannot be held responsible for inaccuracies that we are not aware of. All articles and reports from other sources within this website will indicate their origin. These articles and reports or those contained in links to third party sites within this website are not necessarily the views of Hawkwell Residents Association. If you know of information such as phone numbers, postal or website addresses that have now changed or are no longer available please pass this onto us via the Contact Us page.